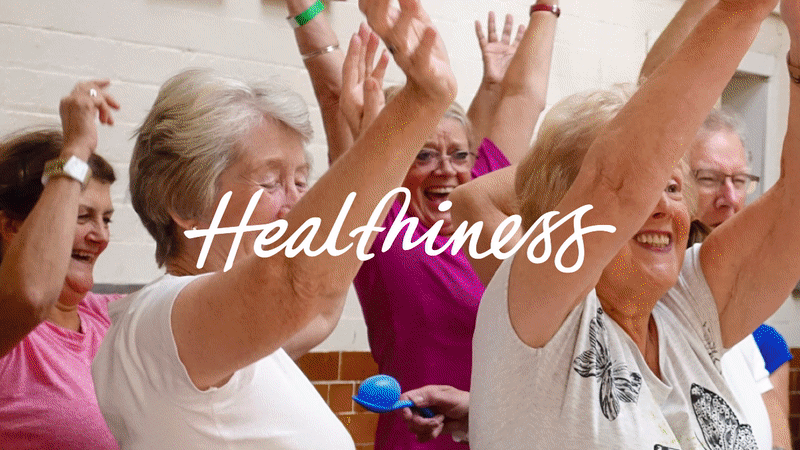 Online fitness classes are hosted on Facebook and you can also find a series of 30 minute exercise videos on YouTube.
HEALTHINESS FACE TO FACE CLASS BOOKINGS
CLASS PROCEDURES
1. Participants to access and book class(es) on Eventbrite (https://tinyurl.com/y3zdh3vr)
2. Participants to pay for class(es) a minimum of 24 hours prior to the class start time on 1st come 1st served basis.
3. Multiple sessions may be booked in advance however no refunds will be given
4. Once payment is received participants place confirmed. No payment=no place.
5. Participants to arrive no earlier than 10 minutes before class start time in correct clothing with marked water bottle, ready to exercise. No changing facilities will be available.
6. Participants to wash hands/use sanitiser/adhere to COVID-19 sanitising protocols prior to entering exercising area.
7. Register of attendance to be taken by instructor only.
8. No equipment will be provided by Healthiness Ltd unless specified. However participants may bring their own mats. (*Weights or other equipment only brought by participants if specifically requested by trainer).
9. Participants to strictly adhere to social distancing regulations at all times and exercise in coned/marked area only and as designated by instructor.
10. On completion of session participants to be given disinfectant spray/wipes to clean cones/floor etc.
11.Participants to wash hands/use hand sanitiser/adhere to COVID-19 sanitising protocols prior to leaving building and exit promptly via designated route.
12. Participants must NOT stop or congregate in training area as new participants will be arriving.
PLEASE NOTE: Participants exercise at their own risk. Under no circumstances should participants attend if they are symptomatic or showing any signs of COVID-19 or are in contact with people who are and/or are in the "extremely vulnerable" or "shielding" category. Anyone found to do so will be asked to leave immediately.
Important Update: COVID-19 Coronavirus Pandemic
As of the 25th July 2020 the Government has announced that indoor exercise classes can resume under COVID-19 guidelines and adherence to social distancing measures.

This is fantastic news for us as an exercise provider but also for you, our valued participants, and means we are able to bring forward phase 3 of our "Project Restart Plan".

HOWEVER....although the climate is changing we are acutely aware that the average age of our participants is 65+, many of whom also have underlying health conditions and are understandably hesitant to resume "normal" activities.

With that in mind we are running both Face-to-Face AND Online/Virtual classes, 18 per week in all, to cater for everyone's needs.
The Face-to-Face classes will be delivered under COVID-19 protocols (including social distancing & hand sanitising measures) from Lark Lane Community Centre, Sefton Grove, off Lark Lane, and will be restricted to 10 participants only. Classes will be on a first-come-first-served basis utilising an online booking system and will be tailored, meaning no equipment will be necessary or will be limited in the first instance (with disinfectant and cleaning protocols adhered to).

Our Virtual/Online classes will continue as per usual since lock down (ie via Facebook) and will be delivered with little or no equipment necessary. Participants to these sessions will therefore need online access and a strong internet connection.
Great news we think you'd agree but please be assured, we are constantly monitoring Government guidance and restrictions and as a health provider we have a duty of care to you, our valued participants, to look after your health and that of your family and friends in the first instance.
So as we cautiously begin the next phase with renewed hope and optimism we look forward to seeing you as we slowly transition back to normality.

With Healthy Regards

Healthiness Ltd.
Great news- Liverpool CCG have renewed our Escape Pain contract for another year - 2020/21 - allowing us to deliver the programme to up to 200 people living with chronic knee and hip pain.

In the same vein, the Health Innovation Network (HIN) have also confirmed they would like to extend our current Escape Pain contract until March 2021.

Hot off the press the HIN has also asked if we can deliver online Escape Pain classes including an education element similar to the face-to-face sessions we ran prior to lock-down. We have a provisional agreement in place and will let you have the full details as soon as they are finalised.
Who We Are
Healthiness Ltd is a not-for-profit health promotion company funded by the Big Lottery, Henry Smith Foundation and Sport England with the NHS. We offer a variety of fitness classes and social opportunities throughout Liverpool and online, including specialist 50+ exercise, fun fitness, chair-based exercise and aerobics, walking groups, cycling groups, Couch to 5K running, active bingo, boccia, arthritis rehabilitation, fitness boot camps and dementia-friendly exercise.
All our online and live class videos can be accessed free of charge, but we do rely on donations in order to continue to provide this service.
For more information tailored to your interest, please select an option from the menu below.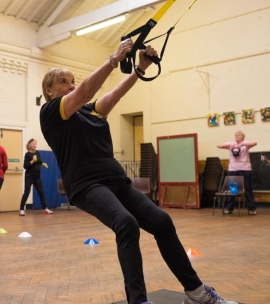 A wide variety of fitness classes especially designed for older adults, including exercise circuits, toning, stretch, boxercise and more.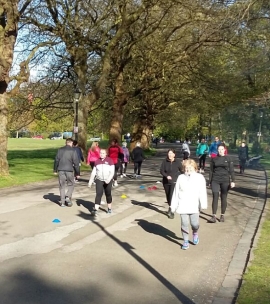 Running for complete beginners. A ten week running programme to help everyone get into running. Just £10 for a full 10 week programme!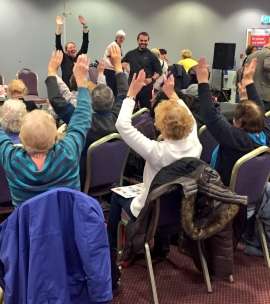 A new and innovative way to exercise - increasing exercise participation while having a game of bingo.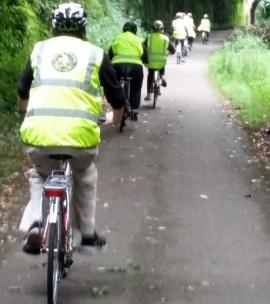 Social off-road cycling groups across the city with bike hire available and refreshments included.

Jackie - 50+ Classes
'I attend Healthiness classes three times a week, go to a rambling club and go on walking breaks. Before, I didn't exercise for years but now I get about six hours of exercise a week. Over the two years I've been attending I've come on leaps and bounds. Look at me now - I did a 5K last month!'

John - Care Assistant
'I think the project is brilliant and it has resulted in lots of benefits for our residents. They look forward to their weekly interaction the team. All staff, residents and their families enjoy joining in and learning about their health. Everyone enjoys it so much.'
Healthiness Ltd
Room 1, Toxteth Town Hall
15 High Park Street
Liverpool, L8 8DX
Site last updated: 23rd April 2020
© Healthiness Ltd, 2020