Running programme for complete beginners
Couch to 5K is a 10 week running programme suitable for everyone. It's a great way to gradually build up your fitness from absolute beginner to being capable of running a 5K race!
Over the course of the 10 sessions, you will gradually build up your fitness. At the end, there will be the opportunity to take part in a full 5K. There's no pressure though - this is completely optional!
When and where is it?
The next programme starts on Wednesday 3rd April 2019 and runs every Wednesday from 5.30pm until 5th June, meeting the gates to Sefton Park's Palm House, L17 1AP.
How do I register?
There are two ways to register:
Please note that online registrations via EventBrite will be subject to an additional VAT charge, which does not apply to phone registrations.
How much does it cost?
£10 for 10 sessions so just £1 a session! This is payable when you sign up and includes a free health check in the first session. There is also the option to buy a unique, limited edition Healthiness Couch to 5K t-shirt for a small additional cost.
What should I wear?
We strongly advise wearing trainers and something comfortable to walk and jog in.
Who is it for?
The Couch to 5K programme is specially designed for anyone who is looking to get more active. You work at your own pace and there's absolutely no pressure. From complete beginner to seasoned runner, everyone can get something out of Couch to 5K!
10 sessions for just £10!
Beginner's Boot Camp resumes soon for 2019 - check back soon for more!
We are also running Boot Camp sessions for beginners alongside the Couch to 5K sessions. These are a gentle introduction to the boot camp sessions we run each week and are a great starting point for anyone new to fitness boot camps. This is a boot camp without the 'boot'!
As with Couch to 5K, it costs just £10 for all 10 sessions so £1 per week. The choice is yours: you could do either Couch to 5K or Beginner's Boot Camp, or both. Again, you can register online at: https://tinyurl.com/healthinesscouch25k or contact us on (0151) 728 8874 to reserve your place by telephone.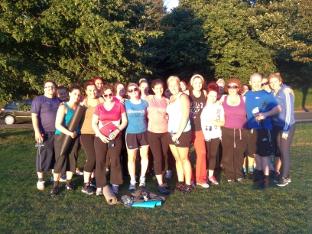 Wednesdays from 3rd April 2019
£10 for 10 sessions
5.30pm - 6.30pm
Meeting point:
Sefton Park (outside Palm House)
Liverpool
L17 1AP
'Because it's such a nice, relaxed atmosphere, you're not afraid to give it your best go: you don't feel like anyone is watching or judging you and there is no pressure. It makes a difference to have good people taking the class. Happy crew, very friendly!' Anne, Couch to 5K