Boccia is a precision ball sport, related to bowls, which is played by competitors with a physical disability or requiring the use of a wheelchair. Two sides compete over a set number of ends, aiming to score as many points as possible by placing their set of coloured balls closest to the white jack ball.
The boccia project delivers weekly and monthly sessions in community venues within Liverpool, including an inclusive boccia league for service users from each centre to form social bonds through competition. Sessions will be up to two hours long and begin with an optional thirty minute healthy lifestyle workshop, interactive quiz, time for tea and socialisation, followed by a 1 hour class. Sessions are led and tailored by a qualified instructor with knowledge and understanding to suit beneficiaries' needs.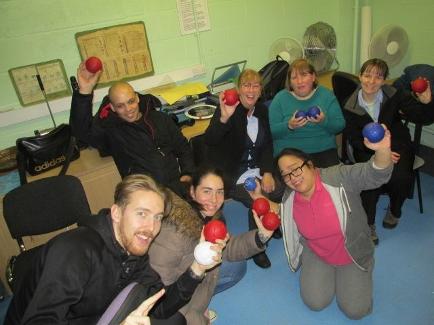 We also run a number of boccia classes at private residential venues across the city.
'We just want to thank Healthiness Ltd for working with our group supporting their boccia activities. Working in partnership with Healthiness, our group takes part in boccia sessions weekly and attend boccia tournaments at Greenbank Sports Academy. The group loves taking part in boccia as it ensures that they are active at least once a week and are able to practice for and take part in tournaments, which is fantastic in reducing social isolation and giving them something to look forward to.'
Michelle Smith, MPower People C.I.C.