Cycle groups for beginners and returning cyclists
Cycle for Health social cycling groups are ideal for people who haven't cycled in a while and are interested in taking it up again. They are a great way of meeting friendly new people while improving your health and wellbeing! Bikes are available for free hire if you don't have one of your own.
Sessions last for two hours, including around 60-90 minutes of cycling and a half-hour stop for tea and coffee afterwards. Rides are usually around 7-9 miles in length and are led by fully qualified Ride Leaders at the front, middle and rear of the group. Refresher sessions are also available if required. Sessions cost just £1 per person, with all proceeds going towards bike maintenance and refreshment costs.
Please note that places are strictly limited and are offered on a first come, first served basis. To pre-book your place (and a hire bike, if required) please contact us prior to attendance.
It's fun and a great way to meet new people
Improves your fitness and can help maintain a healthy weight
Helps reduce stress and lower blood pressure
Reduces the risk of heart disease, diabetes and osteoporosis
Good for the environment and a cost effective way to travel
We finish every ride with a cuppa and a chat!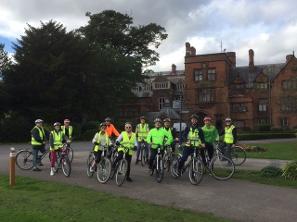 Loop Line Cycle
Tuesdays 1.00pm - 3.00pm
Meeting point:
Broadgreen Hospital
by Main Reception
Thomas Drive
L14 3LB
Local Bus Routes: 7, 61, 81, 102, 139, 202, 204
Nearest Railway Station: Broad Green (0.6 miles)
Mossley Hill Cycle
Wednesdays 1.00pm - 3.00pm
Meeting point:
Mossley Hill Hospital
at Reception
Park Avenue
L18 8BU
Local Bus Routes: 18, 102, 214, 215
Nearest Railway Station: Fazakerley (3.1 miles)
Croxteth Park Cycle
Thursdays 1.00pm - 3.00pm
Meeting point:
Croxteth Hall
at Car Park
Muirhead Avenue East
L11 1EH
Local Bus Routes: 18, 102, 214, 215
Nearest Railway Station: Fazakerley (3.1 miles)
'It's not just about the bike ride - you're getting fit but it's about sharing company and this is a particularly good group. It's a bit of mindfulness - you switch off from everything and that is quality in itself.' Eileen, Cycle Groups