Short and easy led walks for people of all ages
Healthiness Walks for Health are a great way for people of all ages, abilities fitness levels to improve their health and wellbeing while meeting friendly new people.
All walks are led by qualified Walk Leaders and health practitioners, so don't worry about keeping up with anyone else! The walks last approximately 1 hour and are no longer than 2 miles in length, but you can stop and start as much as you like and even leave the walk at any point should you wish.
The walks are also Dementia Friendly, making them ideally suited for adults living with or at risk of dementia and their carers.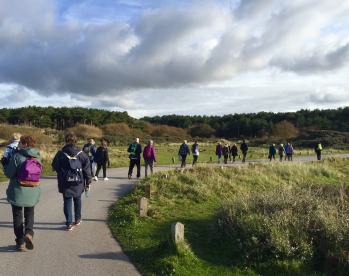 Walking counts towards the recommended 150 minutes of weekly exercise
A great way to get social and meet friendly new people
Walking helps us to stay healthy, watch our weight and gives us energy
Being active helps lower the risk of different illnesses such as certain types of cancer, diabetes and heart disease
Mondays 10.30am - 11.30am
Meeting point:
Calderstones Car Park
Off Calderstones Road
L18 8HZ
Local Bus Routes: 61, 75, 76, 86C
Nearest Railway Station:
Mossley Hill (1.1 miles)
Tuesdays 10.00am - 11.00am
Meeting point:
Lark Lane Park Entrance
Opposite Lark Lane
L17 8XB
Local Bus Routes: 60, 82, X1
Nearest Railway Station:
St Michaels (0.7 miles)
Thursdays 10.00am - 11.00am
Meeting point:
Mossley Hill Hospital Reception
Park Avenue
L18 8BU
Local Bus Routes: 4, 68
Nearest Railway Station:
Mossley Hill (0.5 miles)
We also run longer walks for adults over 50. These walks are normally quarterly and offer a great opportunity to meet new people, get out of the city and give yourself a fresh challenge. The longer walks vary in length from 4-7 miles so we suggest you join us on our free walks to build up your fitness.
Previous walks have taken us to Moel Famau, the South Lakes, Formby, Grizedale, Delamere Forest, the Sefton Coast and the Wirral Coast.
'Communication is the key: talking to those on the walk and getting to know them is lovely. It gives me a purpose on a Monday morning, to get up and come out to have a chat to others and see if I can help. I go walking a lot more now - I'm not addicted but I do enjoy it and I'm thinking, "Why didn't I do this before?"' Freddie, Calderstones Walk