Our online sessions are available via Facebook and Zoom. You can also find a series of short, 30 minute exercise videos on our YouTube channel.
Updated Monday 21st June 2021. Online classes shown in green and face-to-face classes shown in blue.
Please click/tap to enlarge timetable.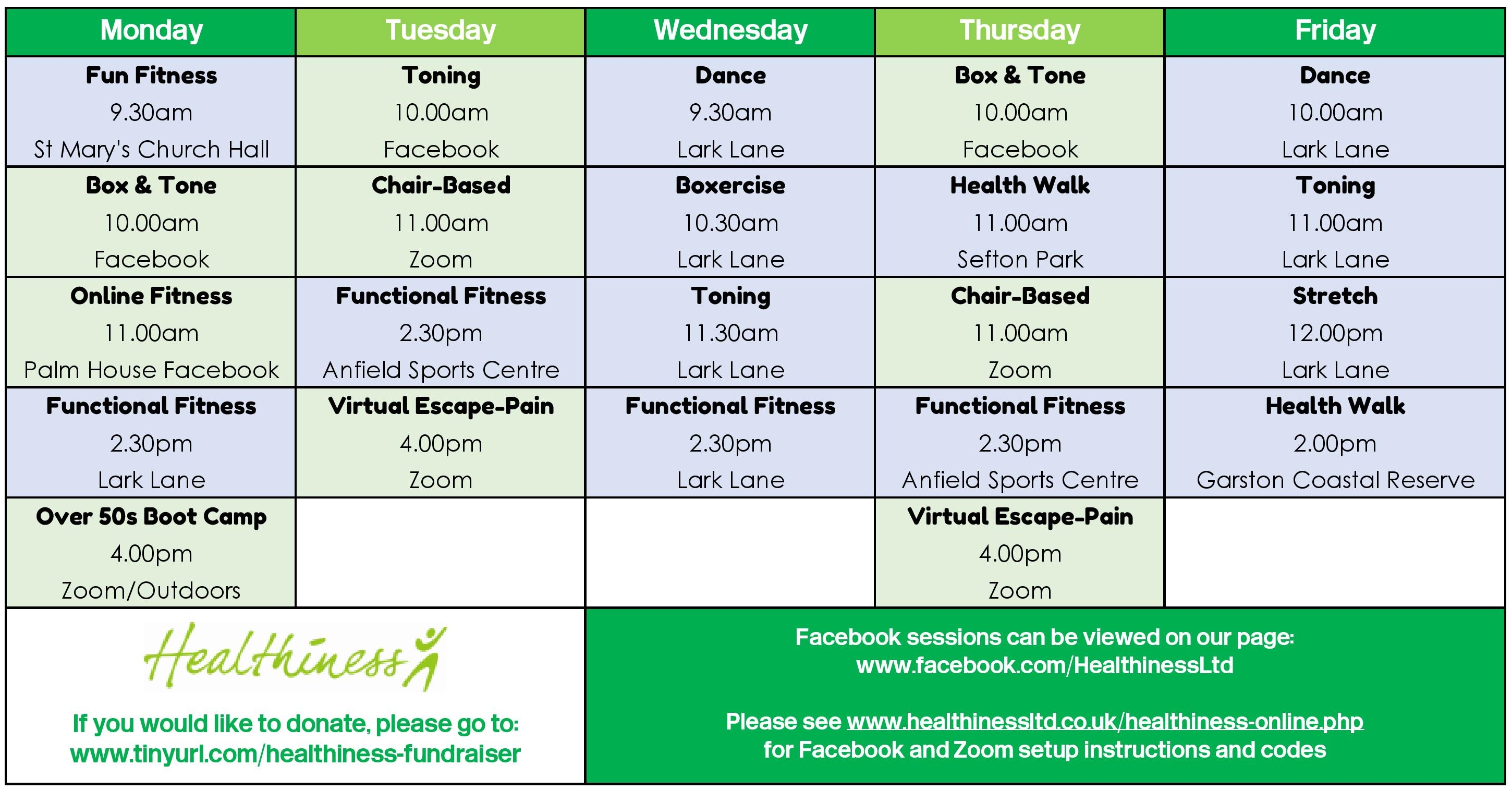 Click below to download a setup guide for Zoom classes.
Please note that the Wednesday sessions and Functional Fitness codes changed as of 10/05/21.
Functional Fitness
Meeting ID: 823 2280 9218
Passcode: functional
50s Boot Camp
Meeting ID: 820 0035 3850
Passcode: bootcamp
Wednesday Dance, Tone & Boxercise
Meeting ID: 878 3945 1934
Passcode: class
Friday Stretch & Core
Meeting ID: 814 2409 9038
Passcode: stretch&FF
Chair-Based Class
Meeting ID: 886 1824 2217
Passcode: chair
Facebook Online Session Setup Guide
All you need to view our live videos is a Facebook account. Once you have one, all you need to do is follow the steps below to get connected.
Step 2: Log into your Facebook account (ignore this step if you are already logged in).

Step 3: In the Facebook search bar, type Healthiness Ltd.

Step 4: Scroll down the page to find your video.

For more information and guidance, please contact us and we'll do our best to get you connected!
Please see the forms page for our current Physical Activity Readiness Questionnaire (PARQ) form. We'd really appreciate it if you could fill this in prior to attending your first class.
Here is our first exercise video - have a look at our YouTube page for many more 30-45 minute sessions.
All our online and live class videos can be accessed free of charge, but we do rely on donations in order to continue to provide this service.
If you would like to donate, please click here to visit our GoFundMe page.